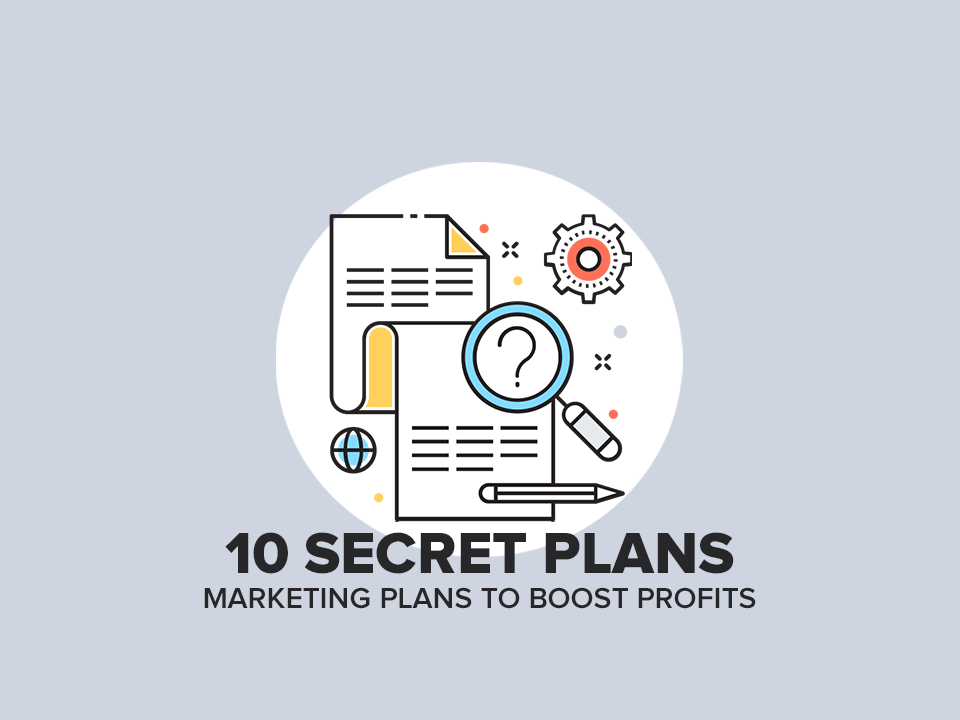 New Previously Unpublished Secret Marketing Plans Reveal How You Can Open Untapped Profit Streams In Your Internet Business To Generate More Orders!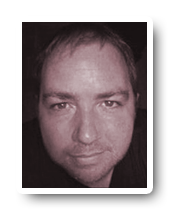 A QUICK WORD FROM SIMON HODGKINSON…
"I Very Rarely Publish or Sell These Plans…  And very few people ever see them. They're "in-house" only. On average, only 1-3 people ever gain access unless, on very rare occasions, I create a full-blown product out of one of them.
Today that number is going to increase by at least one. You.
"TODAY, I'M OPENING UP MY PERSONAL IDEAS FOLDER AND HAND OVER 10 OF MY OWN ACTION PLANS!"
Originally, I thought about selling these as standalone reports released one per week. Honestly, I could make a lot more money doing it that way. I could easily sell them for $10 each. Add in audio and I could get $20 each for them. Add in email coaching and use each one as curriculum and I could get $97 or more each.
But I decided to do something different. I decided to put them all together into one low-cost package for you to access all at once. These are all brand new, never before published action plan reports."

They are approximate 15 pages each, giving you approximately 150 pages of essential information to teach you insider ideas for generating more income from your business!
Here's What's Included:
3 Types Of Content That Will Drive You More Free Traffic
How To Create Your Own 4 Part Conversion Video Series
How To Write And Create Content Driven Video Sales Letters
How To Get A Sales Bump Every Week With Strategic Reports
Multiple Streams Of Income Made Easy
How To Find The Best Blogs For Guest Posting
5 Rock-Solid Ways To Get More Email Coaching Clients
How To Create Your Own Infographics For Fun & Profit
The Best Niche Within Your Niche For Making Easy Money
5 Ways To Turn A $7 Report Into A $197 Order
As you can see, there is a wide variety of topics represented here, all of which apply to the Intenernet marketing and information publishing industries. If you sell anything on the Internet, these are for you.
You'll discover strategies for getting free traffic to your website of choice. There are also strategies for preselling and persuading people to arrive at your website ready to buy. And, probably my favorite part of all, included are strategies for creating additional streams of income for your business with a quick turnaround time.
And, while these are not full-blown products, there are lots of meaty details…
Lots of step-by-step details.
Fill-in-the-blank templates.
Example after example.
Highly profitable ideas.
And, as if that were not enough to convince you already let me give you 3 more reasons why you should invest now:
1. Each report is a "quick read" so you can take action promptly.
Let's face it, very few people ever take action on huge "home study courses". They look good, they sound good, they feel good. But, the truth is, most people get overwhelmed with all of the details and they don't take action.  So Many Words.
Think about it: In order to use the information in these mega courses, you've got to read hundreds of pages of information on the subject matter. Or listen to hours of audio. Or watch hours of video. That's just too much to process for most people. They get lost in a sea of content.  Information overload.
That's why more and more people are looking for "digestible" information. They want content delivered in chunks that are small enough to consume quickly, so they can get started actually using what they have learned.
Each of the reports in this exclusive collection is about 15 pages long. You can read each of them in a single sitting. If you've got thirty minutes, you've got time to read one of these.  What that means to you is this: within the hour you can be putting the information to work for you.
Read it. Process it. Use it.
Instead of being stuck in the "getting started" stage, you will actually FINISH something!
2. Even just one idea, can totally skyrocket your investment.
You're smart with your money, right? If you can spend $5 to make $10, you'll double your money. You'll take that deal every day. Who wouldn't?
It's all about… Return On Investment.
ROI. That is, when you invest money, you want to get a nice return back. More than you invested. The more, the better. If you buy an information product related to your business, you'd like to learn something that significantly improve your business.  
Here's my promise:
"When you get your copy of my reports below, you will get at least one idea that is worth a minimum of 1,000% more than you paid for this collection".
That's right. You will learn how to not just double your investment. Not just triple it, nor quadruple it.
You will learn something that will be worth at least TEN TIMES what you paid for the collection.  (And I have every confidence that I am being conservative in my estimation.)
The truth is, one idea from this collection can be worth much, much more to you than that!
When you download the reports below, you will immediately access all ten individual strategies. Each one of them has at least one potentially business-changing idea and every report in the collection will teach you how to increase your income. Every Report.
3. These aren't just "ideas", these are "proven profitable ideas".
Here's the kicker: the ideas shared in this product have been proven to work. Several of them include full blown case studies showing exactly how they were completed, in step-by-step format.
Let me give you just one quick example…
EXAMPLE: In the report, "Multiple Streams Of Income", you'll see an idea I used a few months ago that resulted in 310 copies of a product being sold for a total $6,200 in sales. Then, PLR (private label rights licensing) was offered to the package for another $7,664 in sales. That's $13,884 in real sales.
From an offer that was put together in less than 24 hours using content that had been previously sold!
That's right, this "repurpose" strategy brought new sales in for content that was not even being marketed anymore. An extra $13,884 using this simple strategy. And it was put together in just one day. Anyone – and I mean ANYONE – can use this idea!
What you'll read in these reports isn't theory. It's actually "best practices" that are being used to generate extra orders for those selling information online.
And YES!  YOU GET BONUSES TOO!..
Due to the nature of this offer – a collection of ten reports – there really doesn't need to be anything additional 'training' thrown in to complete the deal.  (I normally add in reports and checklists on my full blown products to enhance the main teaching curriculum.  Only these ARE reports and expanded checklists…)
…  So, I'm not going to add in more reports to add 'fluff' to the package. Especially at the amazing price point you're about to discover below (if you haven't already peeked)
I'm going to give you one of the most useful software tools you'll find online!

"Quickly And Easily Learn How To Do Virtually ANYTHING And EVERYTHING In Your Life Better Than Ever!"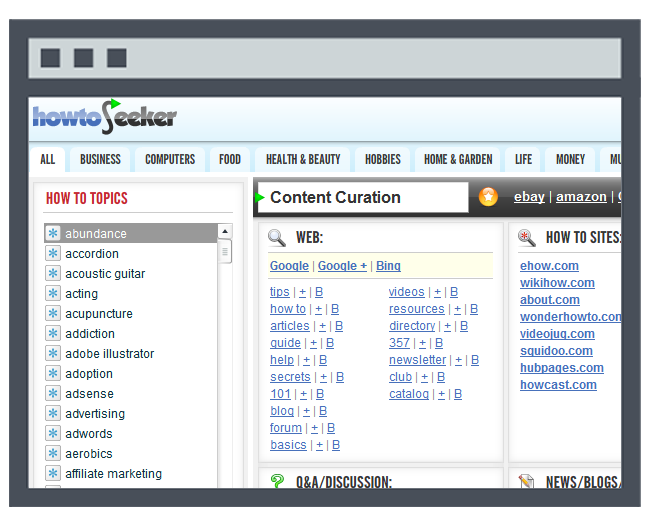 Here's A Short List Of Ways The How-To Seeker Will Benefit You:
Instantly turns you into an expert at finding how-to's online – A combination of specially designed searches and carefully selected sources help you discover how-to content the same way I do, without actually having to think about it – just click!
Cuts through the clutter – Gives you the option to confine your search to the Web's top how-to information destinations, which will help you to dramatically weed out all the nonsense sites/pages that do nothing but clutter things up and slow you down.
Gives you more than a how-to book could ever deliver – How-to content online is more than just text – it's dynamic, and interactive, and thus much more useful and effective. You'll even discover places to ask questions in those cases where an existing answer isn't readily available.
Quickly helps you discover related products and supplies – Accomplishing a task occasionally entails more than reading how-to's and watching videos. Sometimes, you need related products and supplies (for example, if you're interested in a hobby such as golf). With the same ease that you can discover how-to content, you can also find related products and supplies on Amazon.com, ebay, and Google products – It's like have a 'superstore' tailored to your needs at your fingertips!
Saves you time – There's no doubt that you could do absolutely everything the How-To Seeker does manually, but why in the world would you want to? It automates the searching process so you can focus on consuming, learning, and enjoying yourself.
Customizable for your needs – While the How-To Seeker comes with a built-in list of topics (see below), there may be topics you're interested in learning more about that aren't included. No problem! Add them yourself using the How-To Seeker's 'Favorites' feature.
How To Seeker is suitable for both PC & Mac (two versions included)
And I'll tell you what else I'll do…
I'll add in TEN of my 600-800 word articles that were originally intended to be used in promoting the DigitalWebRocket site. In fact, you may already have read one or two of them (the rest have not been published before).
Included will be…
15 Ways To Ethically Borrow Traffic From Others
The Secret To Building Anticipation To Get Orders
3 Ways To Get Orders Without Using Deadlines & Limits
My Three Favorite Ways To Increase Sales
How I Turned A Few Hours Into A Bunch Of Orders
3 Keys To Getting Guest Blog Posts Accepted Quickly
How To Make Money With Your Email Account
3 Ways To Get Free Traffic With Infographics
7 Reasons Why You Should Target Beginners
27 Ideas For Your Next $7 Report
What I think is interesting about these articles is this: the content shared in them is just the kind of stuff that some internet marketers are SELLING as membership training. You know the drill – content is posted inside a membership site 2-3 times each week. Sort of like a paid blog for members only.
The ten articles are as good as most of the paid internet marketing membership site content / posts out there. Seriously, this is probably a month's worth of content for some of the sites, just in the articles alone. And that doesn't include the main reports of course.
Add it all together and you'll have…
178 Pages Of Immediately Useful, Proven-To-Work, Income-Generating Strategies For Internet Marketers & The Coolest Research Software Available Online…
Like I said earlier, I could easily sell these reports for $10 each. But, because I'm bundling them all into a package, I'm going to cut that price down by over 70% and get them to you today at the low price of just $3 per report.
Think about this for just a moment. If you get just ONE idea that earns you just ONE new customer you will more than get your money back from this package. And there is NO WAY you're going to get just "one" idea.
In fact, let me be blunt: If you don't find idea after idea that is worth more than $50, then you just aren't looking. Seriously, it's impossible to review these reports and not find things that you feel far exceed what you paid for it.
Get All 10 Plans Today!.. 
How about I completely remove the risk as well…
If You Don't Get An Idea Worth At Least 1,000% More Than You Paid To Purchase The Product, I'll Refund Every Penny!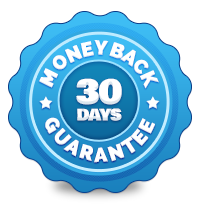 Here's my promise to you: Take the next 30 days and review each report for yourself. If you read them all and don't find at least one idea worth 1,000% more than you paid to purchase the collection, I'll refund every penny you paid. And you can keep the everything you downloaded at no cost. That's how confident I am in these reports.
I do not believe that you nor anyone else can write me an honest email to say that you read it and didn't find it valuable to your business. Every person who downloads and reads the materials find something that is worth much, much more than what they paid for the product. Of course, you need to act on what's inside.
Like I said earlier, I can help you with an action plan. Taking action is up to you.