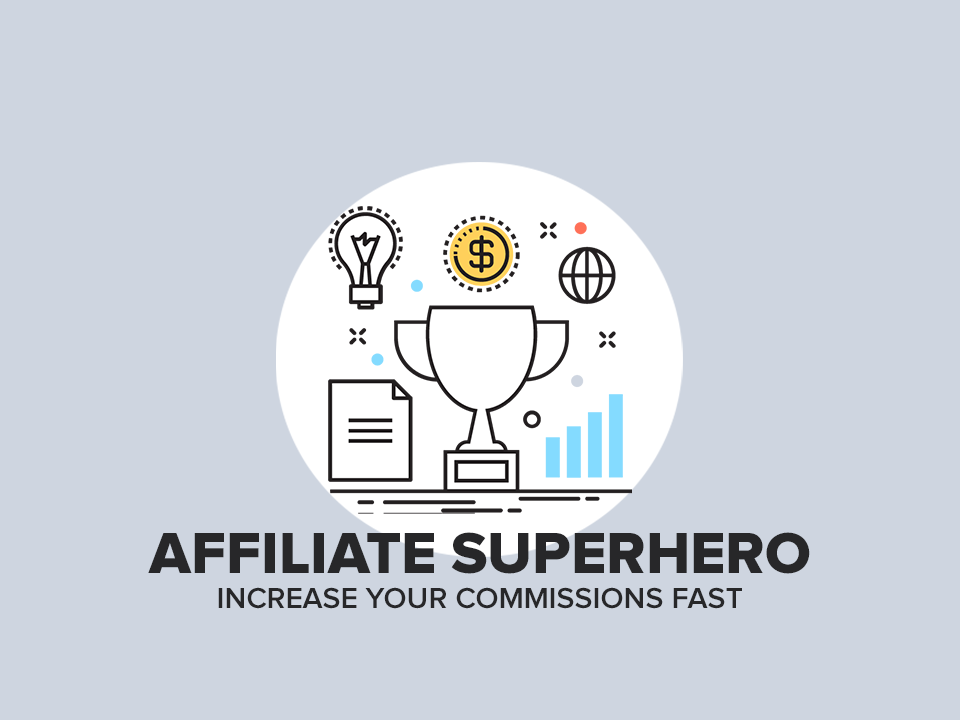 The Affiliate Business Is One of the BEST, Easiest And Most Profitable Business Models You'll Ever Find Online – Yet a Shocking Number of People Aren't Successful… For One Simple Reason:
Once you know the reason – and what to do instead – you can't help but succeed as an affiliate!
Imagine that I showed you a beautiful masterpiece painting, such as Leonardo da Vinci's Mono Lisa. And let's say I ask you to recreate this masterpiece.  You're probably going to give me a dumbfounded look, especially if you have no skills or background when it comes to painting.
There's no way an average person can pick up a paintbrush and recreate the Mona Lisa… right?
Now imagine that I gave you few tools and tips to help you along.  Specifically, I give you:
The exact some type of paint, brushes and other supplies Leonardo da Vinci used.
A "paint by numbers" canvas so that you know exactly what color to put where.
A step-by-step manual that tells you everything about recreating this masterpiece.
An artist who recreates masterpieces looking over your shoulder and coaching you.
Now tell me…  Would you do a better job with recreating the Mona Lisa versus struggling to do it by yourself?  You bet you would! And you'd amaze yourself and others with the end result.
The reason I'm sharing this little story with you is because the same thing applies to ANY goal you'd like to accomplish. You need a good plan, good tools, and a good coach to guide you to success.  If you don't have these things, you'll fail. Period.
And you know what? That's why so many people fail as affiliates – Listen, if you want to build a high profit business, then you need a good plan, good tools, and a good coach.  
And that's exactly what I'm about to give you…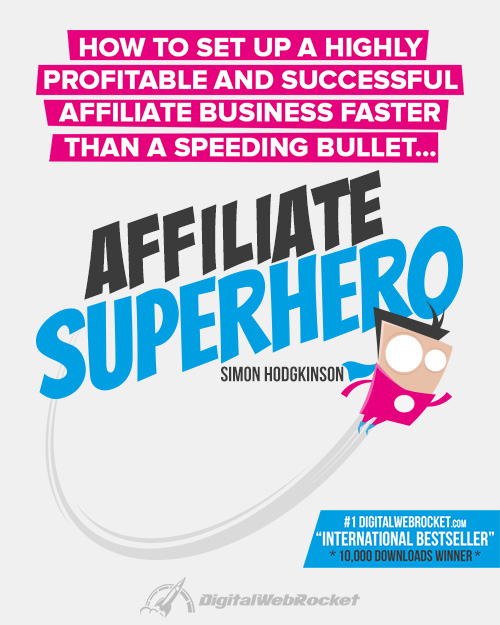 "Affiliate Superhero: How to Setup A Highly Profitable & Successful Affiliate Business Faster Than A Speeding Bullet"
You'll get absolutely EVERYTHING you need to power-up a successful affiliate business, including:
A step-by-step blueprint which takes you through the entire process of choosing a niche, setting up your site, and building a mailing list.
A full set of proven affiliate email swipes, affiliate promotion templates & tools you can use today to explode your conversions and sales.
Sounds good, right?  It is, because…  This is the fastest way to get a successful affiliate business up and running fast.
If you're not familiar with an affiliate (or "commission") business model, let me quickly fill you in on why it's such a great way to get started making money online…
Basically, it works like this: You find products people will love (we'll show you how), you use your referral link to tell people about these products, and you earn a commission every time someone buys from your link.  Simple!
5 Reasons Why So Many People Love This Business Model:
Reason #1: You don't have to create products. This not only saves you time and money, but you don't have to store, ship or otherwise handle products either.
Reason #2: You don't have to deal with delivery, refunds or customer queries. This means you don't need to set up payment systems, hire customer service representatives or deal with those sorts of hassles.
Reason #3: It's quick and easy to set up. In a matter of a few hours or a few days you can launch your business and start collecting commission checks – nothing could be easier!
Reason #4: You can generate a full-time income. Some affiliate product vendors pay very generous commissions—50%, 75% or even more. Plus some products have high ticket prices. Still others are in big demand. The end result? Commission checks that pile up quickly for you!
Reason #5: You don't need to directly "hard sell" anything. No cold calling, no direct sales, no face-to-face required. All you have to do is load content up into an email autoresponder, and put the whole hands-free system on autopilot.
Let's take a look at the formula and to use it to build a great income stream for yourself… 
How To Setup A Super Profitable Affiliate Business
Target The Best Markets: Discover the secrets of choosing a hungry, profitable market that will buy what you promote!
Setting Up A Promotion Site: Learn the quick and easy way to establish a website easily… You'll even get details on all the best tools for the job!
Choose The Right Products: How to pick out the best and most profitable affiliate products to promote.  (where most affiliates get it completely wrong)
Create Content To Promote Products: Find out how to use a time-tested, five-day mini course to promote affiliate offers. (Here's the key: Using this method will guarantee your subscribers won't even feel like you're "selling" anything to them which is exactly why it's so wildly profitable!)
Set Up Your Mailing List: Get everything you need to set up your mailing list the right way for affiliate marketing – It's different from building a regular 'newsletter' list but we've made it truly is "copy & paste" easy!
Here's a quick look at just some of the key info you'll have at your fingertips if you decide to get started with Affiliate Superhero today:
Discover the EXACT tools I use every day to run my six-figure affiliate business!
Learn the easy way to do all the "techie" stuff yourself, even if you're a technophobe.
My strategy for choosing the perfect subject line for every promotional email you send.
How to spot the shady practices that rob unsuspecting affiliates of their commissions!
You'll get dozens of copy and paste templates you can use across your business.
And much, much more!
In short, this manual will serve as your blueprint for printing affiliate commission checks on autopilot.  
But just wait till you hear what else is included with this exciting package…
These 4 Bonuses Are Yours When You Order Today!
Value-Added Bonus #1: Five-Day Mini-Course Template.
As part of this course, you'll discover the secrets of using a five-day mini course delivered by email to promote products to your subscribers. And to make it easier than ever to get your own mini course online, you'll get a complete set of five templates you can use to create your emails. Just fill in the required information, upload into your autoresponder, and you're set to start making commissions!
Value-Added Bonus #2: Five Solo Email Templates.
You'll get five solo email templates you can use to promote your affiliate products. No more spending time staring at a blank screen and struggling to write something persuasive. Just fill in the blanks, add your affiliate links and you'll have five emails you can use to sell more affiliate products!
Value-Added Bonus #3: Printable Checklist
You'll get a complete checklist which outlines every major and minor step of this process. This is a great tool to print off and have at hand as you take action. No more forgetting steps or feeling overwhelmed – just follow the checklist, in before you know it you'll have your very own affiliate business up and running!
Value-Added Bonus #4: Group Coaching Question & Answer Session
Here I've compiled six of the best questions from a group coaching session along with my answers. This downloadable and printable .pdf will show you clever tips and tricks for boosting your affiliate income in some very surprising ways!
And we've not finished just yet…
When you grab Affiliate Superhero today you'll also receive the following bonuses.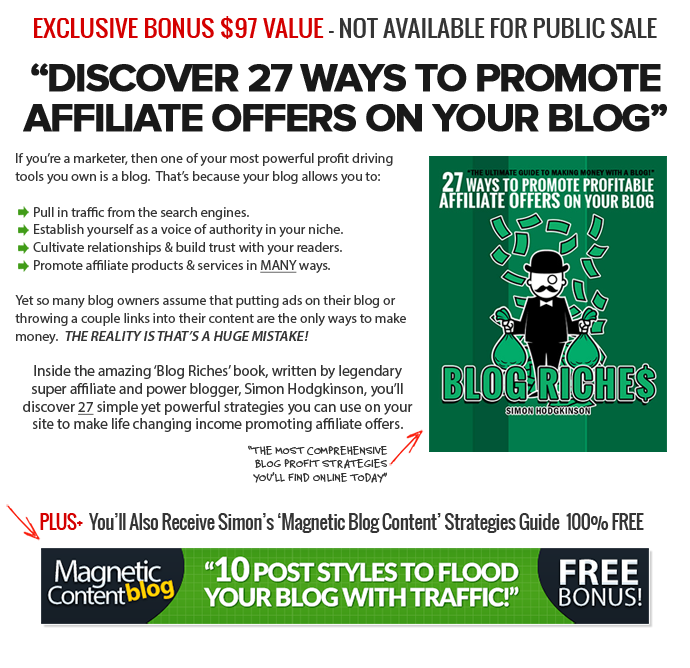 These bonuses give you exactly what you need to set up your business quickly.
Let's quickly recap what you get when you order now:
You get the "Affiliate Superhero" book. (65 pages of "no fluff" content!)
You get the Group Coaching Q&A session transcript.
You get the fill-in-the-blanks presell mini-course articles. ($97.00 value)
You get the fill-in-the-blanks solo mailing templates. ($97.00 value)
You get the 'Blog Riches' and 'Magnetic Content' reports.  ($97.00 value)
Don't Settle For Tiny Commission Checks Any More!
Grab Your Copy Now And Become A True Affiliate Superhero!