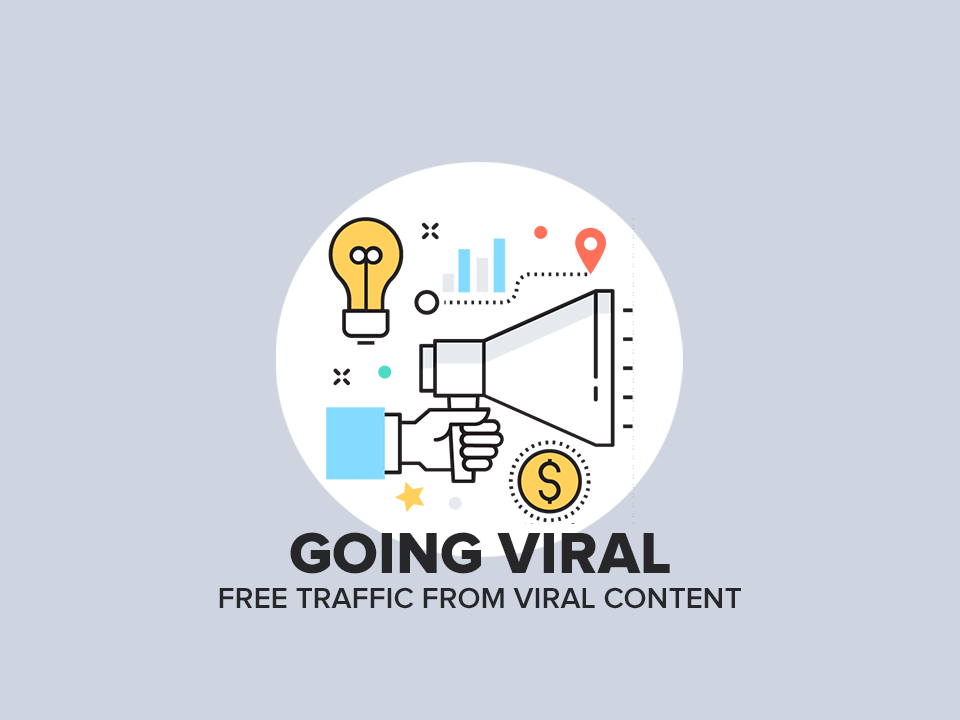 10 Psychological Triggers That Will Make Your Content Go Viral.
Whatever you're selling, marketing campaigns are often expensive to conceptualize, create and implement. From product design, packaging and presentation through to the simplest of promotional materials, everything has an impact on your bottom line.
The cost of poorly implemented advertising can kill a product before it's had chance to even make a dent in the marketplace. And forget affiliate recruitment and joint ventures, that game is only for business owners with too much time on their hands and a severe lack of ambition (even done right, your results will be uncertain at best.)
So it's no wonder why smart marketers are so focused on making their efforts 'go viral' – The right ad, an simple idea, a shareable image or a YouTube video that goes viral can result in instant brand awareness and a traffic surge so huge your servers might genuinely melt under the strain… But not before you've racked up such an amazing return for your business that it's fortunes could be changed forever!
Okay so it's time to jump into social media and sit back ready to count the profits right?..
Well not exactly!
In fact
Getting your product or brand noticed via social media for the average business is close to impossible.
Users upload 300 hours of video to YouTube every 60 seconds.
Users share more than 1.5 billion pieces of content on Facebook every hour.
There Are 600 million new tweets on Twitter per day.
Pinterest gets 5 million new pins every 24 hours.
42 million images are uploaded to Instagram daily.
So it's not unrealistic to say that the chances of your business "breaking through" to a wider audience via social media fall between slim and none.
There Are 600 Million New Tweets On Twitter Per Day!
Click To Tweet
Word Of Mouth Beats All!
People don't believe what you tell them. They rarely believe what you show them. They often believe what their friends tell them.
Seth Godin
Let me give you two quick examples:
The Most Epic Of Splits!
In 2013, Volvo's successful "Volvo Trucks" campaign saw Jean-Claude Van Damme perform an unbelievable stunt between two moving trucks.
The video is just 1 minute and sixteen seconds long yet it spawned a heavily shared parody by actor Channing Tatum and captured everyone's imagination. The ad blew up, it was shared all across social media and has so far delivered over 80 million views on YouTube 
Real Beauty Sketches
An uplifting promotional video by Dove skin care resulted in over 110 million views and 3.8 million shares in it's first month.
Dove added 15,000 subscribers to it's YouTube channel after just 8 weeks and then took the video global uploading it in 25 languages to 30+ of it's YouTube channels – today the original video on it's US based channel has over 66 million views. 
Watch More Amazing Viral Videos…
FREE ACCESS TO OUR VIRAL VIDEO LIBRARY WITH YOUR PURCHASE
When you order your copy of Going Viral today you'll also receive complimentary access to our viral video archive.  Regularly updated and a true source of inspiration for your own projects!

You'll have instant access to creatives from the smartest, savviest companies of all sizes from around the world. Watch the videos that are making the biggest impact, the content that is triggering consumers to share, like and tell their friends about them and impact these brands in amazing ways. Some campaigns are incredibly funny, others will tug at your heart strings. But all contain triggers that get people talking and you can see them all in our detailed archive – 100% Free Access Included With 'Going Viral'
[Extra Bonus – Our Viral Tools & Software Rolodex]
Here's Just A Little Of What's Inside Going Viral:
Discover the exact emotions your content needs to evoke – And we guarantee it's NOT what you think!
The surprising way to use your viewer's own ego to guarantee you get more shares!
A really simple and almost 'common-sense' factor that so many marketers overlook.
How to literally 'drug induce' your viewer's brains using nothing but clever content (Incredibly powerful)
The most powerful triggers to get more views, shares, comments & likes that you can use with ANY type of content!
There's lot's more… In fact you'll get all 10 of the triggers you need to employ to kick start your campaigns along with real life examples and actionable tips and ideas to apply to all your campaigns for maximum results.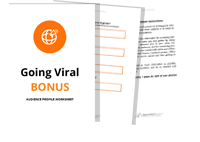 BONUS:  Audience Profile Workbook…
The key to creating great viral content (or writing effective sales copy, emails, blog posts and other content) is to know as much as you can about your target audience.
With this special printout-able, bonus workbook you'll see the information Simon compiles for each of his own projects and then use the guides & questions to replicate the same winning formula in your own campaigns.
You'll know the top 10 secrets about creating viral content and the science behind how they work!
Armed with the knowledge inside this little book your next campaign could be your best, your biggest ROI, even the most fun, thrill ride of your marketing career and it can help put your product in front of the World… Exactly where it should be.
Thomas Jefferson once said "The man who stops advertising to save money is like the man who stops the clock to save time" and I agree with that sentiment 100%…
…  But the reason I created Going Viral and the reason why you should dive into it's pages is because the very best advertising, the kind of advertising you can't pay, for is done by your customers – Word of Mouth Beats All!Simon Hodgkinson
Order Going Viral – Click The Add To Cart Button Below

Here's the thing: You can spend your own time and "trial and error" to figure these things out on your own. Maybe you'll do better than Simon. Maybe it won't take you five years to learn them. We don't know. You might learn them all in half that time. Or even in the next year.
But…  How much money will you waste between now and then? How much time will you squander away? How many headaches and dead ends and mistakes will come into your life as a result of not knowing what Simon has put together for you right here?
Why do this on your own when you can download the book right now? If you get just ONE idea that you didn't have before or you get ONE reminder that moves you back in the right direction, it will be worth it countless times over.
We've made this as affordable as possible so EVERYONE can glean from Simon's many years of research and experience. You either see the value in that or you don't. Chances are, if you don't, then you probably won't take action on the things shared anyway.
If you do see the immense opportunity here, then order your copy of Going Viral right now and put these triggers to work in your next marketing campaign.
Your Purchase Is Backed Up With Our 30 Day Satisfaction Guarantee
---