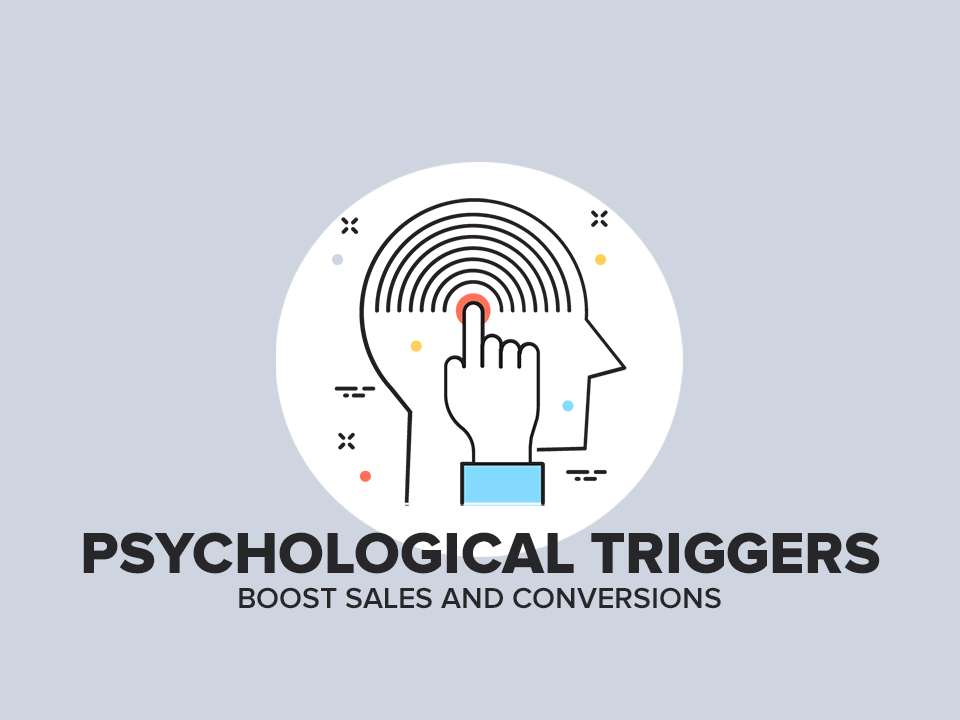 A lot of marketers look at successful sales letters, and then try to mimic the words they think will boost sales. That's right, they use a swipe file.
And then they wonder why their swipe-filled sales letter isn't generating any sales.
Here's the thing…
If you don't understand the psychology of selling, then the words are going to fall flat if they're not used in the right context. If you put the components of a sales letter in the wrong order, sales will tank. If you're not pushing the right emotional sales triggers at exactly the right time, the conversion rate will be pretty abysmal.
The point is, in order to start getting more subscribers and sales, you need to understand why your prospects behave the way they do, what they're thinking, and how you can get them to act in a desired way.
That's exactly what you're about to discover in this special report, where we'll look at ten psychological sales triggers you can put to work for you starting as soon as today.
"What you'll learn in this report is like pulling back the curtain to see how the world's best sales people, marketers and politicians seem to almost magically lead people to do what they want."
And now you too can boost your sales and response rates by employing the following ten psychological sales triggers:
Reciprocity – And the real key to making this powerful trigger work in any situation.
Curiosity – How to hook people in and get them to devour everything you write.
Specificity – How to build trust with readers instantly if you use this the right way.
Objection-Handling – Including my time tested guarantee statement.
Credibility – I'll reveal 5 types of statement you can model that really work.
Conformity – How to use social proof and psychology to grow your sales fast.
Fear – The

two

kinds of fear motivators you should be using now to get action.
Authority – Includes a simple tactic to instantly radiate authority in any niche.
Honesty – Including a tactic deployed by the world's best mouthwash brand.
Consistency – Discover how to easily turn an innocuous request into a big order.
Now the key here is to not cherry pick through these methods and merely use a few of them. Instead, put as many of these methods to work for you every time you write a sales letter, publish a newsletter, post something on your blog, or write any other type of persuasive content.
These are extremely powerful triggers that researchers have proved time and again work like crazy to boost your response rates.
But don't take my word for it – try them for yourself to see what kind of results you'll get. I think you'll be amazed!
And remember these triggers aren't just for sales copy…  Yes you can use these triggers in your sales letters (they will revolutionize your numbers), but you should also use them in your blog posts, your emails and more. You can use them to get more subscribers, get sales, get referrals… or whatever else you need to grow your business.
Includes lots of great examples, references and tips that will apply to you whatever business you're in and it's an ultra quick read – I know you've a million and one other important things to do, so I won't waste your time, you can read and digest the entire report in less than an hour and start putting these triggers to action TODAY!
Sounds good, right? Let's jump in…

Now maybe you're wondering if what you'll read is worth your time?
It's a fair question and my answer is that I think it is – I've spent fifteen years honing my copywriting skills. My sales letters have pulled in $20 million worth of frontend sales and created countless backend opportunities.  I've sold tens of thousands of products online in dozens of different niche markets to people in almost every country on earth.
Now you too can put my experience and skills to work for you.
Question: Why Only $5?
Answer: If you're thinking "$5 seems cheap… where's the catch?" then here are 3 reasons that should put your mind at ease:
1. $5 puts this incredibly valuable information within everyone's reach… from just getting started entrepreneurs to struggling marketers and even experienced Pros. (And at $5, everyone that can benefit from this without hesitation.)
2. It eliminates 'tyre kickers'. Our audience numbers are growing fast but we only want serious business owners and marketers/entrepreneurs who actually take action to be part of this audience, and from experience we know charging anything… even if it's just a few dollars… takes away 99% of the time wasters.
3. We tested it, and $5 for a short, fluff free report generated the best 'feel good about it' response from buyers and the best conversions for us. (Hey, we're all marketers here so let's be straight with each other)
More importantly: We also know once you experience this short report and put the ideas into practice and see the results for yourself, you'll want more and perhaps… you'll come back, buy more reports and possibly even opt for our bigger, higher priced courses and training.
But that's all… There is no hidden back end, there is no 'part 2' you need to buy to make any of this work, just the information you need in an easily digestable format that delivers results.
If that sounds good to you then click here to order now and you'll be reading the report in the next couple of minutes.
I'm so confident you'll love this product that I'm willing to back this offer with an iron-clad 100% money back guarantee. If you're unsatisfied for any reason whatsoever, simply email me and I'll promptly issue a full refund… no questions asked.
Think about it…  Right now you have a simple decision to make, if you choose to do nothing and leave this sales page, you sales aren't going to miraculously improve overnight. The feeling that you are missing a 'key ingredient' in your promotions will continue. People will still arrive at your pages and leave without buying.
You might figure things out all on your own but at what cost in terms of financial trial and error and time?  I'll wager it will be considerably more than the tiny investment you are considering saying yes to on this page.
So choose wisely and remember with my guarantee your decision to buy comes with no risk whatsoever.

---