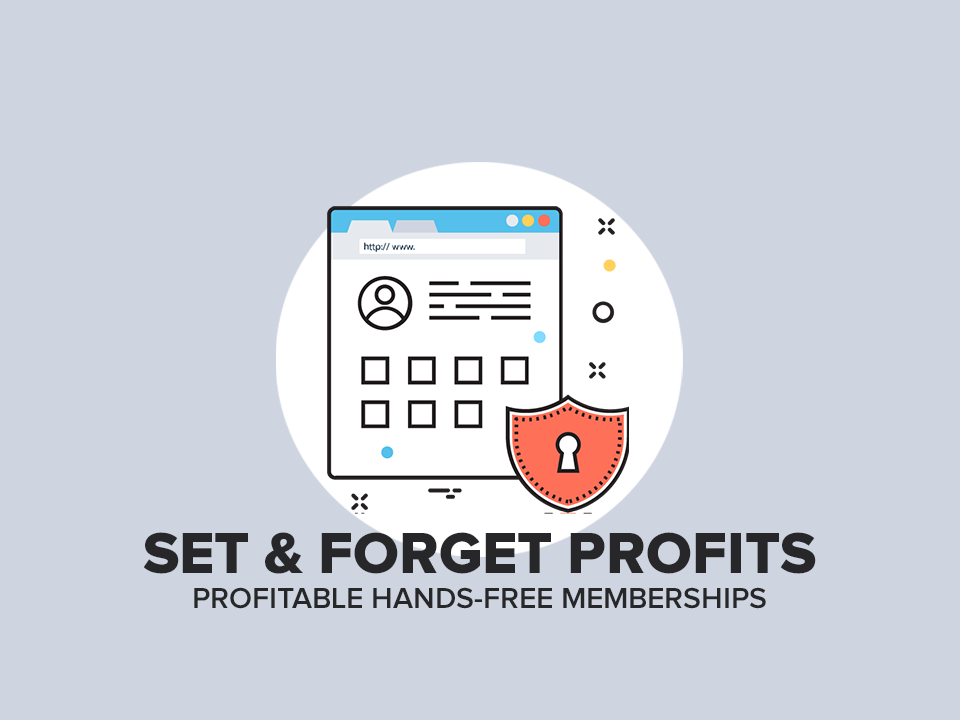 Step One:

Set It Up.


Step Two:

Walk Away.


Step Three:

Make Money.
Follow Those Three Steps To Setup 'Set & Forget' Membership Site And Make Money Online
A lot of people are touting the merits of setting up membership sites to make money online. I love membership sites myself. I've owned quite of few of them and have at least a dozen active sites right now. They're a great source of revenue.  But…  They require ongoing time investment (or the cost of hiring staff to run them).
What if…  It were possible to "set it and forget it" when it comes to membership sites?
It is possible!  While I teach information on several different kinds of membership sites (traditional, fixed-term, etc.) what I want to introduce you to now is the concept of a "Set & Forget" membership site.
Here's the idea…
Defined: A "Set & Forget" membership site is a site which you setup one-time with a set of informative content (articles, reports, videos, etc.) related to a specific topic that members pay a one-time fee to access.
Did you catch the words "one-time"? You set this up one-time, walk away and let it run. To be sure, you will need to promote it so people know about it. But, the site is setup one time and operates on its own. The benefits are attractive…
Since there is a one-time setup, you are not tied down to creating new materials every month.
Since there is a one-time payment, prospects are more likely to buy as there is no long-term buying commitment.
You can use the site to build a customer list which you can then use to promote other related offers.
You can even build in backend offers into the content itself (provided you still deliver high-quality info).
Once the site is setup, your only responsibility is to promote it. The site automatically processes and fulfills the orders.
As you can see, this is a solid business model. If you know what you're doing, you could set one of these up in a couple of days and then rinse and repeat for more hands-free profits.
This new guide will get you well on your way…
As with the other special reports at DigitalWebRocket, The Set & Forget report is a concise, yet comprehensive, manual. In a short amount of space, you'll learn what creating a set and forget membership is all about, as well as what you need to do to get your own site "live" and taking orders.
A few of the things you'll learn when you download your copy...
My Set & Forget membership site formula where I introduce you to the four key steps to building the perfect one-off site to sell memberships to.
Market: here's where you choose a hungry market to sell your memberships to, plus you choose the topic of your site (such as tennis, homeschooling, body building, improving a golf game, etc). I'll give you half a dozen ways to find a hungry market, suggestions on finding the right topic, and 20 fill-in-the-blank templates for selecting a title for your site.
Information: Creating your membership site content is easy when you use private label rights (PLR) content! You can over-deliver by offering your members tightly-related niche ebooks, reports, audios, videos, software and more! I'll give you a VALUABLE ($147 WORTH) resource for free and more ways to find high-quality PLR content, insider tips for choosing the right materials and more than a dozen ideas and tips for repurposing the content for your mini membershp site!
Network: Here you'll discover how to set up a password-protected membership website, collect payments and more. I'll give you simple suggestions and a run-down of action steps, for getting your site up and running as quickly as possible! I'll also give you a simple yet super-powerful membership plugin to make it easy!
Invite: All that's left to do is invite your prospects to become members! While traffic generation is outside the scope of this special report, I'll give you a one-page checklist of the top 15 ways to quickly get the word out about your new membership site so prospects can start becoming paying customers fast, plus extra links and resources to flood your site with potential members!
I can tell you this with great certainty – I wish I had had this report when I set up my first set and forget site back in 2002. Yep, that's right … I've been using this strategy for more than a decade! I've fine-tuned it and am sharing what I've learned inside this report.
IMPORTANT: The Set & Forget Model is a report. It is not a detailed, "how-to" course on the subject. It is a "what to" report. The necessary steps are shared, but there is not a lengthy explanation of them. This is for intermediate or experienced IMers only.
If you sell information products online already, then creating a "Set & Forget" membership site is a great addition to your lineup of content-based products.
You can quickly get things established and ready to take orders. Usually those with just a little experience can do this in a couple of days. (I've created quite a few of these sites now and it gets easier with practice – today you could lock me in a room for six hours, and I could have one setup from scratch and collecting payments.)
Then it's easy…  You can enjoy the benefits of selling memberships as you spend time informing the world of your site.
Set & Forget Profits
Create A Hands-Free Membership Site For Quick & Easy Cash…
(45 Page Report in .PDF Format – Instant Download)
"Set it and forget it"!  There's lots of ways that you can make money online. There are several ways to make money with membership sites but I think you'd be hard-pressed to find a way that is quicker and easier and requires less ongoing activity than a "Set & Forget" membership.