Promoting yourself or your business online with video isn't difficult as long as you plan ahead, use the right tools copy the strategies that work and avoid the common mistakes many businesses make. Here's how to get it right…
The following tips come straight from the top video marketers around today and adding some of these to your current video marketing efforts will really reap rewards:
Get Your Audience Involved:
If you want your videos to make a big impact, you might want to get your prospects and customers involved early in the video marketing creation process. For example, you could ask your social network friends and followers to send in questions using video. Their videos can then be spliced into your own videos.  It works because when you make your audience part of the creation process, they'll begin to look forward to your new videos and you'll see your efforts working.
Be Controversial:
Don't just do what everyone else is doing. Instead, do the opposite (sometimes the exact opposite). If you can manage to create a little controversy with your videos, you'll get far more attention than someone who is playing it straight. Just be careful, as controversy can backfire if you're not careful.
The key is to know your audience, you'll be less likely to create a video marketing blunder that you can't recover from.
Quality over Quantity:
Some folks will have you believe that it's all about quantity (usually the ones promoting crappy video tools that let you 'churn out 100's of videos in the click of a button').  You know the pitch I'm sure but it's essentially the more videos you publish, the more attention you'll get…
That's a HUGE mistake…
…  The real experts know that good video marketing is all about quality. Even if you only have 3 videos created and they took days to make, the quality and the results will speak for themselves.  It's always better to leave your audience wanting more than wanting to see less, so focus on making great videos rather than churning material out that no one wants to watch.
What Is The Best Length?
Today people are constantly bombarded with information and as a result have short attention spans. Keep your videos short and simple! Your video should be no longer than necessary to effectively express your idea or message.
As a rule of thumb, keep your videos under 2 minutes. (The only exception to this rule is for demo videos or instructional videos that take longer to teach).
[su_note note_color="#f4f4f4″]
Tip:  Choose The Right Host & Player
When it comes to quality and video length it pays to use a player that provides you with good data…
How long do people watch?
Are there specific points in your video where you lose your audience?
Can you include calls to action or subscription forms directly in your videos?
You can use services like Wistia to host your videos and use their smart video player to get all the data you need but it can work out expensive (a Pro account starts at $100 a month and there are added costs for bandwidth) which means your costs can spiral fast when you release a popular video.
But there's a great player that doesn't cost the earth!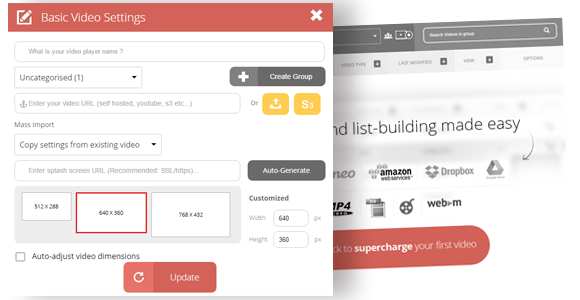 VooPlayer is a great solution, it has a similar feature set to the higher end services (in fact the new version has a few more bells and whistles designed specifically with marketers in mind) but it's way cheaper and with additional options to host videos with Amazon S3 or Youtube and retain the cool player functionality there won't be any nasty surprises or monthly invoices to worry about.
Click Here To Check Out VooPlayer Gold [/su_note]
Editing Your Videos:
When it comes to videos, technology is useful but it's not a deal breaker. What I'm saying is that you do not have to have expensive equipment and software, but of course a little technical know-how goes a long way. You can produce many videos for free if you already have a webcam. Focus on your content; as long as it is compelling your video quality doesn't have to be top of the line.
You can get started making videos on your webcam or even by using the video software on your smart phone. Same holds true for editing, keep it simple. You don't have to go out and spend a fortune on video editing software, just make sure you video gets your point across in an effective manner.
Don't go overboard with video bling! It is not necessary to add a lot of special effects to your videos, in fact it can be distracting. Try to keep your colors, animations, and special effects to a minimum, what you want your viewers to focus on is your message.
[su_note note_color="#f4f4f4″]
Video Creation Tools We Recommend:
Video Maker FX:  This is a real 'all-in-one' video making solution. It's easy to use and can make whiteboard style videos, explainers, kinetic typography, simple presentations and slideshow style videos along with lower thirds and logo stingers – It also comes with built in themes and audio tracks you can use royalty free.
[su_spacer size="3″]
Explaindio Software:  Another multi-use tool that's great for making animated & doodle type videos – It's easy to use and if you want to make explainer videos or instructional videos it's great. The latest version comes with new features like 'sketch to animation', fully animated moving motion objects, 'sketch to video', and green screen support.
[su_spacer size="3″]
Video Motion Pro:  Great for longer videos like video training courses and information products and green screen work. You can also use it for lower third animations, outros (good for youtube video calls to action) it has screen capture too. The 'Premium' version also comes with a developers license for all your videos if you want to sell them.
[su_spacer size="3″]
Camtasia & Snagit From TechSmith:  The original (and in our opinion) the best screen capture software available on the market.  Use it to record on-screen activity, customize and edit content, add interactive elements or import media, and share your videos with anyone, on nearly any device.
[su_spacer size="3″]
Pow Toon:  Make professional looking animated videos and presentations, that captivate and engage your audience. Features a simple to use user interface that lets you drag and drop your video to completion with plenty of advanced features to give your videos a really professional look.
[su_spacer size="3″]

Voice Bunny:  If you need to hire voice talent for your videos you'll find a great line up at Voice Bunny.  The site takes away all the risk and the usual hassles of hiring voice over artist and the range of voices available is huge. Quick turnaround times and superb support team who really go the extra mile if needed too.
[su_spacer size="3″]
[/su_note]
Posting Your Videos:
The frequency you should post your videos depends greatly on your goals. Be sure that you have a clear and specific marketing strategy in mind. Be sure to identify your company's goals, and the plan your videos so that they support them.
Think strategically so that your videos are tied to your business objectives and marketing goals.
[su_spacer size="10″]
5 Types of Video Marketing That Will Have Your Audience Ready to Take Action
Video marketing can be fun and exciting when you switch things up regularly. You'll also appeal to your audience a lot more if you're able to create videos that are varied instead of creating the same videos time and time again.
To help give you some ideas, here are five types of video marketing that will help you reach your target audience much faster.
1. The Face-To-Face: This is where you film yourself talking to your audience. This can be effective if you have a simple message to deliver and you want to do it quickly. This is probably the easiest type of video to create since you need nothing more than a video camera or mobile phone camera to create your various pieces.
2. Question Time: This is the newsroom type of video marketing. This is where you film a panel of people talking. This might include two people, four or even more. Just like the newsroom, the idea is to get a conversation started that will appeal to your audience directly.
3. Animation: This is where you take cartoon-like animation and show your audience what you're talking about. You don't have to be Walt Disney to create compelling animation video marketing pieces. You can use some of the programs we looked at earlier to create fun and entertaining animated videos.
4. Screen Cast: This is where you take a video capture of your screen to show your audience how to follow certain steps. This is great if you are showing your audience how to operate a software program or for showing certain techniques that have to do with the computer and/or the Internet in general. This is also an incredibly easy type of video to make and Camtasia or Snagit will help you screencast in style.
5. Combination: The experts know that the best videos are a combination of two or more of the above options. You can, for example, start your video with a face-to-face introduction, introduce animation and a screen cast at certain times to get your point across.
The key to creating a good combo video is to ensure each element flows seamlessly with the next. Your audience will appreciate the efforts and if done correctly, they'll get everything out of your videos that you wanted them to.
Use one or more of the above styles in your video marketing efforts and you'll always keep your audience engaged and ready to take action.
Outsourcing
Sometimes it's best to let professionals handle your video marketing campaign.  Reaching out to a great promotional video company ensures your message will be heard.  If you are looking to 'go big' with your campaign, you should definitely consider hiring a good sales video production company.  Sometimes a professional touch makes the difference between your videos going unnoticed and going viral.  Just be sure to do thorough research before choosing which company to work with.
[su_spacer size="10″]
[su_pullquote]To learn more video marketing tips and tricks make sure pay a visit to Video Profits Fastlane
And if want to discover another 25+ simple tweaks you can make to increase your conversions then check out our all time best selling "Order Boosters" course here [/su_pullquote]
More Posts To Check Out
[su_custom_gallery source="category: 20″ limit="9″ link="post" width="180″ height="120″ title="always"]